SPANISH ART
Contemporary Spanish Art. Spanish artists.
Spanish Art. The light of the Mediterranean through the emptiness of the Castilian plateau towards the intrepid Atlantic: an explosive mixture mirror of the Spanish Culture. Sensuality and fineness, air and serene melancholy. Force and passion.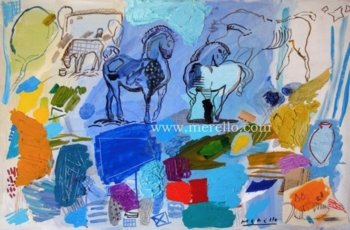 Blue horses. (60x92 cm) Mix media on canvas
Sensual. / Graphito.

Spanish Art. Contemporary Spanish Art Painting. Modern Painting from Spain.

SPANISH ART. Merello.-"Pietro di Milano".
La luz del color en ti. Mix media on paper.
---
CONTACT
artemerello@gmail.com
---
MUSIC BY ENRIQUE GRANADOS (SPANISH DANCE, Op. 37, H. 142 - XII. Arabesca)
SPANISH ART